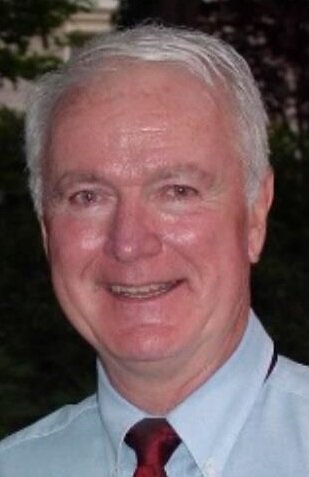 Obituary of Kenneth "Pete" Peter Tota
Kenneth Peter "Pete" Tota Jr. was born to Kenneth Peter Tota and Hester Laughlin Tota on February 12, 1936 in Elmira, NY. At age 85, Pete died peacefully surrounded by his loving family in Ithaca, NY on August 30, 2021. It is rare that a person takes a simple name with four letters, like Pete Tota or Pete, as people called him, and makes it mean so much to those in the community that came to know him, but that is what Pete did during his lifetime. Pete spoke the loudest with his actions, not his words, never made excuses, and made decisions in his life based on his three great loyalties, God, family, and country. Pete was humble and selfless and easily gained the respect of others, family, friends, coworkers, and acquaintances. Pete possessed all the qualities that we all aspire to: undying work ethic, incredible father and grandfather, loving spouse, mentor to others, a sense of humor, kindness, generosity, smarts, clever problem solver and first and foremost a family man. At a young age, Pete learned from his father Ken and his grandfather "Pop" the process of analyzing and solving problems. He loved thinking through and solving complex problems, and after graduating from Elmira Fee Academy in 1954, Pete decided to pursue a career in engineering and attended Buffalo University and Elmira College. Pete had already started working with his father Ken designing and building automated chiropractor tables that they patented and sold to chiropractors around the country. After his father's death, Pete took over both family businesses, the chiropractor tables business, and the arcade concession at Eldridge Park. He loved the challenge of building or fixing anything he could get his hands on, mechanical, electrical, it did not matter, he could figure it out. The lessons that he learned from his father and grandfather only enhanced his talent. In the mid-1970s, Pete took on a new challenge and joined B.M.T., a garment bagging machine manufacturer in Big Flats, NY. Pete excelled in his role perfecting the garment bagging process, receiving a patent along with two other colleagues for an Automate Garment Bagging System that offered a method and apparatus for bagging hanger-held garments wherein the garment is enclosed in a bag sealed at both ends. It was at B.M.T. that Pete formed a friendship with a colleague Arnold "Arnie" Carbaugh, who would later leave B.M.T. to form his own company, Carbaugh Tool in Big Flats, NY. Pete eventually left B.M.T to join Arnie at Carbaugh Tool in 1980, where he would spend the next 30 years of his career doing what he loved, supervising and mentoring tool makers, designing and building parts and systems, biding on complex work, and working with his colleagues that he loved. Pete had all the gifts in his profession, a tried-and-true tool maker and jack-of-all trades, who would put his problem-solving skills to work to take on any challenge, big or small. If there was a problem, Pete would sleep on it and wake up in the morning with a fresh perspective of ideas on how to solve it. In 1986, Pete was a founding partner, along with his son Mark Tota, of the Seneca Grand Prix in Watkins Glen, NY. The Seneca Grand Prix was a family entertainment center that featured go-karts, grand prix karts, mini-golf, bumper boats, and an arcade that took Pete back to his family roots at Eldridge Park. The entertainment business was in his blood, he loved the work, fixing and automating the attractions and equipment so families could enjoy the experience. When Pete was not working you would find him spending time with what mattered most to him, hunting with his sons, building and wiring son Ken's cabin in West Virginia, helping son Mark with a project for engineering school, attending one of son Michael's games, or watching and tutoring his grandsons, Anthony, Dominic, and Jonathan. His spare time was dedicated to his family and his penchant for outdoor activities. On the weekends, he loved spending time with family at his cabin in Beaver Dams, NY. Pete also loved spaghetti and meatballs, fixing arcade games, filming family Christmases, snowmobiling, making pies, owning a gun or two, going to Disney World with the family, and a good shot of bourbon when he got a chance. Pete spent his final years under the quality care of the dedicated staff at Clare Bridge of Ithaca, and the family would like to thank the Clare Bridge staff for their outstanding service. Pete loved the staff at Clare Bridge for all that they do. Thank you, Clare Bridge. Pete is predeceased by his three sisters Elizabeth M. "Betty" Savino and Antoinette "Toni" Stapleton of Elmira, NY and Carol Nitsche of Alexandria, VA, and his former wife Elizabeth A. "Betty" Tota. He is survived by his loving wife Carole Carbaugh Tota who provided undying support and care during his final years. His three sons and family, Kenneth T. and Mauricio Guerra of Alexandria, VA, Mark S. and Sarah Conklin of Horseheads, NY, and Michael J. and Alma Sy of Woodland Hills, CA., and beloved grandsons Anthony Tota, Dominic Tota, and Jonathan Conklin: and many other nieces, nephews, cousins, and a host of caring friends. The family will receive relatives and friends for calling hours at the Barber Funeral Home, 413 South Main Street, Horseheads, NY on Thursday September 9th 2021from 4:00 p.m. to 7:00 p.m. There will be a prayer service followed by a burial at the Laurel Hill Cemetery at 11am on Friday, September 10th 2021. In lieu of flowers, please consider making donations in Pete's name to Catholic Charities, USA at https://www.catholiccharitiesusa.org/ways-to-give/ Pete was a dedicated loving father and grandfather; he will be long remembered for a name that meant something to so many people for what he represented and the people that he touched.
To send flowers to the family or plant a tree in memory of Kenneth "Pete" Tota, please visit Tribute Store
Visitation
2021-09-09 16:00:00 - 19:00:00
Share Your Memory of
Kenneth "Pete"